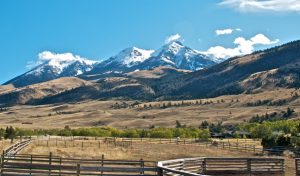 Windermere Real Estate is a Montana Realty agency dedicated to helping people find the right home at the right price. Their Managing Broker, Bob Pauley, will be happy to work with you to determine your needs and help you find the perfect home to fit your budget.
Bob's experience in the Montana real estate industry is impressive, with a long-standing history of satisfying clients in both the home buyer and home seller categories. In today's market, it's not easy to reach deep enough into the network of available homes without the assistance of a professional realtor, especially one who knows the local communities like few other agents in Montana.
Agent Pauley's website can be considered your first point of contact with his agency, and is a valuable resource to anyone interested in learning more about Montana realty and what it has to offer. His website, located at BobP.withre.com, is set up to provide a wide range of services and information to visitors, including all of the following features:
– A fully-functioning MLS Listing Search bar that is free to use in the comfort of your home. Type in the location or community you are interested in moving to, narrow down your search with a variety of criteria and find one or two homes of interest to get started with. Bob will be happy to take you around and show you any homes that you find appealing.
– An informative blog with interesting articles and recent market updates in popular locations, housekeeping tips, home renovation information and much more.
– Everything you need to know about Bob Pauley to make you feel comfortable giving him a call if you have any questions or wish to do a deeper dig into local real estate.
– Tips for buyers and sellers in the Montana realty market that can serve to save you time and money in the future.
– Valuable online financial calculators you can use to compare interest rates to determine your savings over current APR rates.
– Useful links that include the Bitterroot Valley Chamber of Commerce where you'll find a wealth of things to do in the region.
– Online access to the Bitterroot Valley Public Library and its resources, including the ability to set up an account online.
– And much more.
Feel free to give Bob a call at 406-363-3222 when the time is right and let him put what he likes to call the Power of Windermere to work for you. You'll love working with a Montana realty professional who is focused and passionate about helping you find exactly what you have in mind.
Discover why living in Big Sky Country is often referred to as living in paradise. Find the home of your dreams amid the sea of Montana realty and work with an experienced negotiator, committed to staying within your budget. Why not give Bob a call today and ask about what's new in the market? Your new home is out there- let Bob help you find it.